Many people may hesitate to pursue dental implants due to fear of the cost, or inability to know the exact price of dental implants.  At London Bridge Smiles, we do our best to work with each patient and their financial concerns about the average cost for dental implant restorations.  While every situation is different, we can try to help you understand the process.
The average cost of a dental implant procedure can be affected by several specific factors including bone quality and amount, how many teeth need to be replaced, how many implants will support these teeth, and which type of artificial teeth/crowns will be used.  A cost per tooth would be incurred when individual implants and crowns are necessary, and there are other procedures available for complete or full dentures stabilized by implants, also known as "all on 4."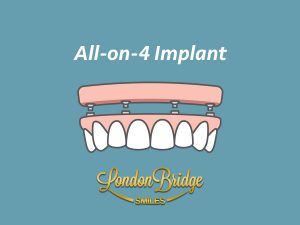 All on 4 dental implants is a procedure where 4-6 implants are surgically placed into the gums and jawbone and your denture is attached on top. This provides your denture with exceptional stability. In fact, many patients report that their implant-retained dentures feel and function more like their natural teeth.  An all on 4 denture is a more affordable alternative to getting full dental implants.
Keep in mind that what may be considered as affordable dental implants, best price dental implants, or low cost dental implants may not be the best solution for you in the long term.  You will want to make sure you are receiving implant dentistry that lasts for years to come, and quality care during the process, keeping your future costs for repairs down.  Dental implants are made of titanium, and this expensive metal is one reason the average cost of dental implants can be higher than expected, but much of the cost incurs in the service provided.  A device implanted into living tissue surrounded by blood vessels, nerves, and in some cases, the sinuses, must be properly positioned.  Experience is a large factor in the success of your dental implant procedure as it requires education, patience, and caution to position the implant.
We do provide several payment options and payment plans for implant restoration.
Your insurance provider will be able to answer whether or not implant dentistry is a covered procedure.
If you have questions about implant dentistry, all on 4, same day dental implants, or what the average cost of dental implants may be, we encourage you to call our office at 757-340-8805 to scheduled a complimentary, no obligation consultation with our dentists at London Bridge Smiles.  We will be happy to take the time to answer your questions, as well as discuss and explain your options.