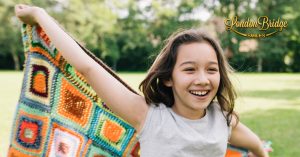 Ahhh, summer vacation:  a time to relax, unwind, and cast your cares away!  Fun in the sun means spending time with family, going to the beach, attending weddings, cookouts, and reunions.  Warm months are perfect for spending time with those we love, but don't let the time get away from you when it comes to your dental health.
Especially for kids, it is easy for them to "forget" to brush their teeth before bed when the urge to play outside has them running around and getting tired. Or, when the mornings no longer require a routine for getting up and getting ready, it's easy for kids to forget to brush their teeth on a lazy day.  It is important to help them keep up with brushing habits morning and night to prevent tooth decay.  It's just as easy for adults to stray from their routine too during summer fun – try to remember to always brush your teeth twice a day no matter how much fun you're having!
Another habit that changes during the summer is the intake of sugary drinks and snacks.  When we attend parties, cookouts, and enjoy cold beverages outside, we are often adding extra sugar to our diet that we wouldn't normally consume.  Kids may be consuming popsicles and ice cream, lemonades and sodas that you don't even know about when they stay at a friend's house.  Keep healthy snacks around for your kids and for visitors – work those healthy snacks into the routine and don't allow an overabundance of sweet stuff.  Remind them how important it is to brush their teeth even when they aren't at home with you. Remember to provide lots of water to drink in the heat, which not only keeps you hydrated, but also helps wash away the sugars when brushing isn't available.
When school is out for summer, that is often the best time to schedule your child's dental checkup.  Make your appointment early in the summer to make sure you get a time that is convenient for you and works around any vacation schedules.  Visiting the dentist during the summer can keep your child from missing valuable time at school during the year.  Give us a call at 757-340-8805, or use our online appointment request at the top of the page, to get on the Dr. Alan's or Dr. Tiffany's schedule as soon as possible.
Happy Summer from London Bridge Smiles!