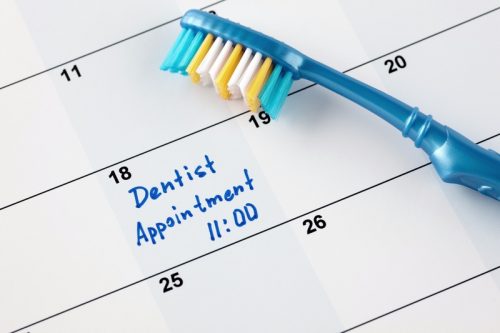 The New Year brings about a time for making those resolutions that may – or may not –  be kept throughout the year.  Resolutions are often health-related, and may include the desire to lose weight, exercise more, eat better, or stop smoking.  These are hard to keep up with, even to the most dedicated individual!  We may be busy focusing on other things like work, family, and our hobbies. 
Did you know that your oral health is a part of overall wellness that should not be ignored when making your new year's resolutions?  When it comes to your mouth, these resolutions could be simple, like promising yourself to have better daily brushing habits. Resolutions can also require more dedication, such as completing a treatment that has been avoided.  Of course, the bonus for you is that there are benefits to either type of resolution that you may make.  

How to make small steps toward a healthier mouth:

Daily:
Make sure you are brushing your teeth twice per day (morning and evening) with fluoride toothpaste.  This removes bacteria which can later become harmful to your teeth and gums.
Use floss between your teeth once per day to remove plaque and bacteria that your toothbrush cannot reach.
Use mouthwash daily which has antibacterial properties and the added benefit of fluoride.
When available, choose healthier snacks and beverages that contain less sugar and acids that can contribute to tooth decay.  When you are not able to brush your teeth in the middle of the day, the sugars you have eaten linger behind on your teeth.
Every 3 -4 months:
Replace your toothbrush every 3 – 4 months.
Every 6 months:
Make your regular visits to your hygienist for your professional teeth cleaning.
Talk to your dentist about teeth whitening to remove stains and enhance their appearance.
Long Term:
Consider orthodontic treatment for an abnormal bite or tooth crowding/overlapping. Correcting these attributes is not only for looks, but for oral health as well – straighter teeth are easier to clean and decrease the chance for cavities and decay. 
Complete any restorative work that your dentist has recommended, such as fillings or crowns, to protect and preserve the tooth structures and avoid losing teeth.
Quit smoking cigarettes or using chewing tobacco products, which will improve not only your oral health but the overall health of your body as well. 
If you are looking for experienced dentists near you to help you stay on track for a healthy mouth this year, please give our office a call at 757-340-8805 and we would be happy to help turn your resolutions into reality.